Our company responds to the national "The Belt and Road" policy and follows the footsteps of Ningbo Zhoushan Port. After years of hard development, the rail project has been involved in Chongqing, Hefei, Nanchang, Ordos, Wuhu and other places outside the province. Within the province to Yiwu, Shaoxing, Xiaoshan, Taizhou and other places. In Yiwu market, in order to cooperate with the rail business, our company has invested in setting up truck fleet, and equipped with professional Hairailway customer service and operator, to provide customers with more stable and efficient multimodal logistics services.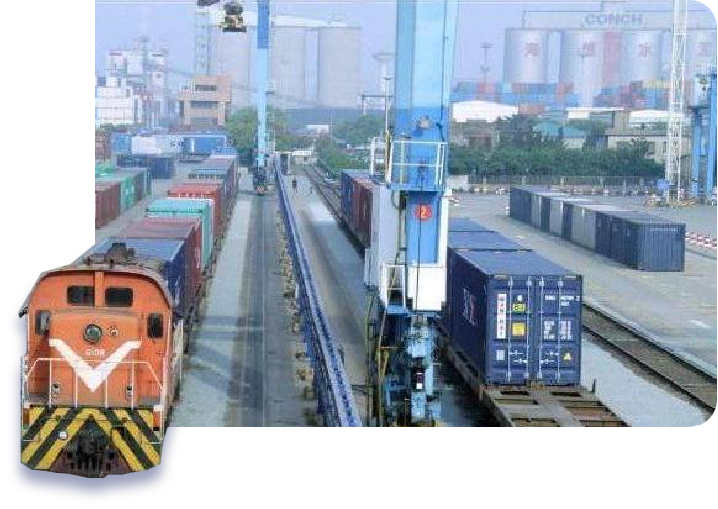 Company business covers a wide range of countries and regions
Our company has signed direct booking agreements with COSCO, EMC, YML, ONE, HMM, CMA, MSC, WANHAI, TSL, ZIM, Ningbo Ocean Shipping, KMTC, SML, VOLTA, etc.The company has a professional, high-quality, experienced staff, proficient in international shipping business and import and export customs clearance. Perfect computer network system, let us to the efficiency of the information age for customer service. With customs clearance, warehousing and distribution capabilities, we can provide a full range of logistics services such as door-to-door pickup, LCL, inland lightening, sea transportation, container disassembly, customs clearance and distribution according to customers' requirements. The service scope connects ports in China.
To provide customers with container FCL, LCL, bulk cargo, bulk grocery sea, air import services. It can precisely control the whole process from the port of departure, including sea and air freight preferential inquiry, booking space, customs declaration, customs clearance after the arrival of goods, apply for inspection, Inland river barge,warehouse devanning, etc, to ensure the name of service products, and maximum possible for customers to save logistics transportation costs.
Warehousing logistics is an extremely important part of supply chain logistics. Since its establishment, our company has invested more and more in warehousing logistics year by year to meet the growing needs of customers. We have set up tens of thousands of square meters of warehouses in Beilun and Yiwu, providing integrated logistics services and additional value-added services such as export consolidation, import allocation and regional distribution.